When you look at the big picture, deciding between a glass fish tank or acrylic fish tank isn't the most critical choice. At the same time, knowing the pros and cons of each can help you maintain the tank more efficiently, and there may also be a difference in appearance in the long run.
Pros and Cons of Acrylic Fish Tanks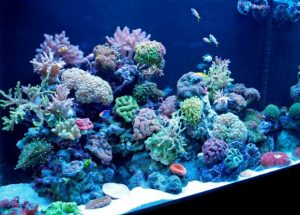 1. An acrylic fish tank is significantly lighter than a glass tank, making it easier for you or your aquarium technician to move it if necessary. While this isn't significant for small tanks, a larger tank can be difficult to move.
On the other hand: Glass tanks can hold more weight.
2. Wear and tear is only natural, but you can buff away scratches on an acrylic tank.
On the other hand: Over time, the wear and tear will inevitably become more prevalent. Additionally, essentially anything can scratch the tank, even the fish themselves.
3. Acrylic tanks are better for temperature control. It's easier to maintain a consistent temperature inside the tank because acrylic serves as insulation of sorts.
There really is no downside here. This is a tremendous benefit, especially here in Arizona. You want to be able to control the temperature according to your requirements without having extraneous factors to consider.
Maintaining the ideal water temperature leads to a cleaner, healthier, and more comfortable environment for your livestock.
4. They're strong and durable. They don't break as easily, creating a safer environment for you and your livestock.
On the other hand: Glass is still stronger overall.
Pros and Cons of Glass Fish Tanks

1. Glass fish tanks tend to be less pricey than acrylic tanks, likely due to their heaviness.
On the other hand: Because of the way light hits the tank and the water, you may be able to see the fish more accurately and more clearly with an acrylic tank.
2. The fish are no match for glass. Glass is less likely to get scratched inside or outside.
On the other hand: When a glass tank does have scratches, it's more difficult to remove them. Additionally, glass tanks are more likely to completely shatter, endangering livestock and people and possibly damaging furniture.
Emergency services for aquariums are available for Seatech Aquariums clients.
3. Glass tanks are prettier. They look more natural and have a natural shimmer to them.
On the other hand: As mentioned above, acrylic tanks are better for temperature control. Glass itself does get warmer and colder. For this reason, if you do have a glass tank (or acrylic tank for that matter), you should keep it away from direct sunlight.