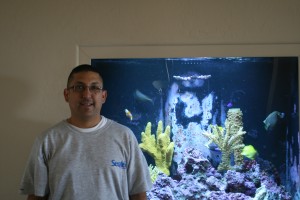 Jimmie Hernandez | Owner
With over 20 years of successful aquarium design, setup, and maintenance, Jimmie heads both the residential and commercial divisions at Seatech Aquariums.
Jimmie has been the vision and execution behind the successful growth of Seatech Aquariums. His clients absolutely love his professionalism and passion to seeing that their aquariums, whether freshwater, saltwater or reef tanks, are thriving and turning a long-term investment.
While Jimmie is a seasoned expert in the aquatic industry, he continues to research and is up to date on the latest industry news, trends, and also attends both local and nationwide seminars and conferences. Seatech Aquariums has access to knowledge and trends that are regularly changing, and he makes certain that these methodologies and technologies are passed on directly to our amazing customers.
Jimmie is considered a seasoned expert within the Aquatic Industry and is commonly called upon by various industry experts for his expertise and shared knowledge.
Customer Feedback
Jimmie Hernandez with Seatech Aquariums is simply the best. In our rookie years of starting up reef and saltwater aquariums, we struggled with livestock and water quality. After contacting Seatech Aquariums online, Jimmie impressed us with the initial consultation and provided the expertise that any level (novice to expert) aquarium owner is looking for. Seatech now handles our aquarium maintenance and over the last 5 years, we have not lost 1 fish – which is absolutely amazing compared to our personal experiences of going back and forth to the fish store for new livestock on a very frequent basis. For our professional aquarium maintenance services from Seatech, Jimmie always communicates arrival times and uses what we consider a white-glove service – always with the utmost professional and attention to detail. Jimmie brings RODI water, all food supplies, nutrients and even hardware for the aquarium as needed. Once you contact Seatech Aquariums, you will immediately know you made the right decision and you can finally enjoy your aquarium investment and hobby for years to come.
James and Denise Titus
190 Gallon Saltwater Aquarium
Take a Look at our Latest

Blogs
Jul 07 2022

Can you change a freshwater aquarium into a saltwater aquarium? Can you use any fish tank for either type of aquarium? What do you need to change the habitat from fresh to salty? The answers: Yes, you can switch the type of aquarium, and just about any fish tank will do. The only challenging factors […]

Jun 06 2022

Can fish eat human food? That's a question we hear every now and then from our clients. The answer is mostly "no," but there are some possible exceptions. Even for those exceptions, however, we wouldn't recommend placing human food in an aquarium because it could be dangerous for the animals and live plants. Herbivorous livestock […]

Apr 04 2022

As you are looking for a company for fish tank installation in Phoenix, you may not know where to begin in order to find the best company. The aquarium hobby is popular in Arizona, so there's no shortage of options. While there are many fish tank installation companies in Phoenix, not all of them offer […]