As you are looking for a company for fish tank installation in Phoenix, you may not know where to begin in order to find the best company. The aquarium hobby is popular in Arizona, so there's no shortage of options. While there are many fish tank installation companies in Phoenix, not all of them offer the same services or have the same level of expertise.
The first place to start is by making a few important decisions about what you would like to see.
Factors to Consider for Your Aquarium Design
Deciding what type of aquarium you want, how much time you want to spend maintaining the fish tank, which types of livestock you want to see, and how much space you have for it will be the first steps toward designing the aquarium. Here are a few issues to consider.
Your level of expertise as a hobbyist
The needs of a first-time fish tank owner will likely be very different than those of an experienced hobbyist. If this is your first aquarium, you should make it easy on yourself. Choose fish that are tough, resilient, easygoing, and won't grow so large that they are hard to manage. Freshwater fish tend to be a little stronger, generally speaking. Rasboras, danios, and platies are good options.
How much space you have
Level of experience aside, how much space you have in your home or office is essential to the aquarium design. If you're looking to beautify space in a large walkway at a business, you can go for larger tanks and larger fish. If you are only looking to fill a small nook in your home, a nano tank and little fish may be better for you.
Your budget
Installing a fish tank in your Phoenix home doesn't have to cost a lot. We can design stunning aquariums that are much more affordable than you would expect. On the other hand, if you are an experienced hobbyist who wants to go really big and bold, we can help you with that too.
What type of aquarium you want
There are many options for aquarium designs, including freshwater aquariums, FOWLR tanks, and reef aquariums. Saltwater aquariums may require more elements, such as enhanced lighting and plants. If you want to re-create a reef environment, you will need to add coral as well. While saltwater aquariums may require more steps, they can be more intriguing.
On the other hand, if you want a freshwater fish tank installed in your Phoenix home, we can help design it in a way that is also stunning yet easy to maintain.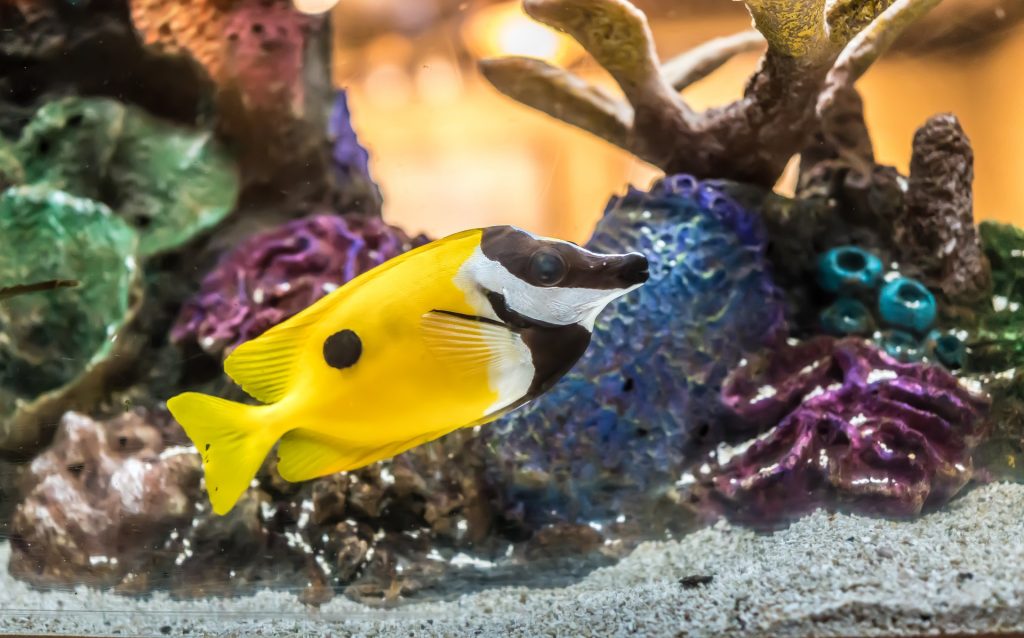 Questions to Ask when Looking for Fish Tank Installation in Phoenix
Once you have a general idea of what type of fish tank you prefer, you should do some research to identify a fish tank installation company in Phoenix that can design the aquarium you want to see. Asking the following questions may help.
1. Can you install the type of fish tank I want?
Clearly, the company should be able to install and design the type of aquarium you desire.
Seatech Aquariums installs saltwater aquariums, freshwater aquariums, FOWLR (fish only with live rock) tanks, reef aquariums, and many others.
2. Which elements will you install?
Whether you are installing a saltwater fish tank or freshwater aquarium, many elements will be required, including the tank itself, lighting, heaters, filters, gravel, rock, plants, and, of course, the fish.
Seatech Aquariums handles the following during the installation and design process:
Conceptually designing the aquarium to create an intriguing, soothing, eye-catching appeal, as well as an optimal environment for the livestock
Installing the tank itself, including ensuring its safety and cleanliness
Attaching/placing filtration systems and pumps
Placing gravel for freshwater tanks or sand for saltwater aquariums
Adding rock and other decor
Filling the tank with RODI water, which would be mixed with salt if it is a saltwater tank
Ensuring that the pH level is optimal
Ensuring that the temperature is optimal for the chosen inhabitants
Showing you how to maintain the temperature and pH level of the tank
Placing lighting
Installing heaters
Providing tank chillers to ensure proper temperature control
Acclimating the new fish to their new home
Planting live plants as desired
Placing coral if it's a reef aquarium
Providing you with a supply of fish food
3. What aquarium maintenance services do you provide?
While some experienced fishkeepers choose to maintain their own aquariums, most choose the easy option and request these services from a local fish tank maintenance company.
Seatech Aquariums has been providing fish tank installation and maintenance services in Phoenix for more than 20 years, and our service offerings continue to grow. Generally, our maintenance services include:
As you are looking for fish tank installation in Phoenix, it's important to choose a company that has experience in the Valley. Understanding how environmental factors affect an aquarium is essential to maintaining a quality environment for the fish tank's inhabitants.
To learn more about any of our services, call us at 602-628-7270 or send Jimmie an email at jimmie@seatechaquariums.com.