Tired of hauling water around to and from your local fish store to do your water changes? Seatech is now providing valley-wide aquarium water delivery of ultra-purified RO/DI water for both fresh and saltwater aquariums.
We have divided the valley into four areas (see map):
1. Area 1 delivery is on Monday.
2. Area 2 is on Tuesday.
3. Area 3 is on Wednesday.
4. Area 4 is on Thursday.
If there is a holiday, we will move deliveries back a day. Cut-off time to ensure delivery is 5 p.m. the prior day. Orders placed after 5 p.m. will be moved to the following week.
Minimum orders are required. A minimum of $15 is required for each order.  This minimum could change depending on how many deliveries we have in your area. Orders are taken by credit card only, and water will be left by the front door (unless otherwise noted). Discounts are available for customers on "auto-delivery" and a credit card on file.
We have a loyalty rewards program where you can earn FREE water after so many gallons purchased. We also have a referral program, so if you refer someone to our services, be sure to have them enter your phone number when ordering. This will also help you earn FREE water, as well as drive down the minimum required order if these referrals are in the same area as you.
Drivers do not carry cash or checks. ALL ORDERS ARE PREPAID BY CREDIT CARD ONLY.
The following are our fees:
Water Containers:
Three Gallon Container-$13.75
Five Gallon Container-$14.75
Five Gallon Jug-$13.95
Saltwater Brand Per Gallon:
Saltwater (1.025 sg) using Instant Ocean-$1.45/gallon
Saltwater (1.025 sg) using Fritz Reef Pro-$1.50/gallon
Saltwater (1.025 sg) using Red Sea Coral Pro-$1.55/gallon
Catalina Saltwater (Natural Ocean Saltwater)-$1.65/gallon
Freshwater Per Gallon:
RODI Freshwater-$.65/gallon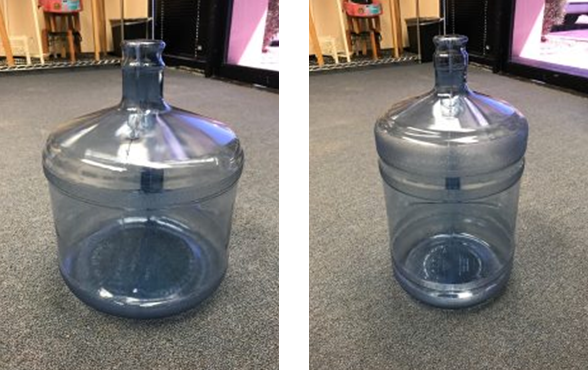 Area 1 – Southeast Valley
Boundaries are I10 (where it runs north/south) by airport to the west, Loop 202 to the north, Power Road to the East and Loop 202 to the south. This area generally encompasses Tempe, Mesa, Gilbert, Chandler and Ahwatukee.
Area 2 – Northeast Valley
Boundaries are I17 to the west, Carefree Highway to the north, Beeline Highway to the east and I10/ Loop 202 to the south. This area generally encompasses Scottsdale, Paradise Valley, Cave Creek/Carefree, Fountain Hills, and North Scottsdale.
Water Delivery Service Map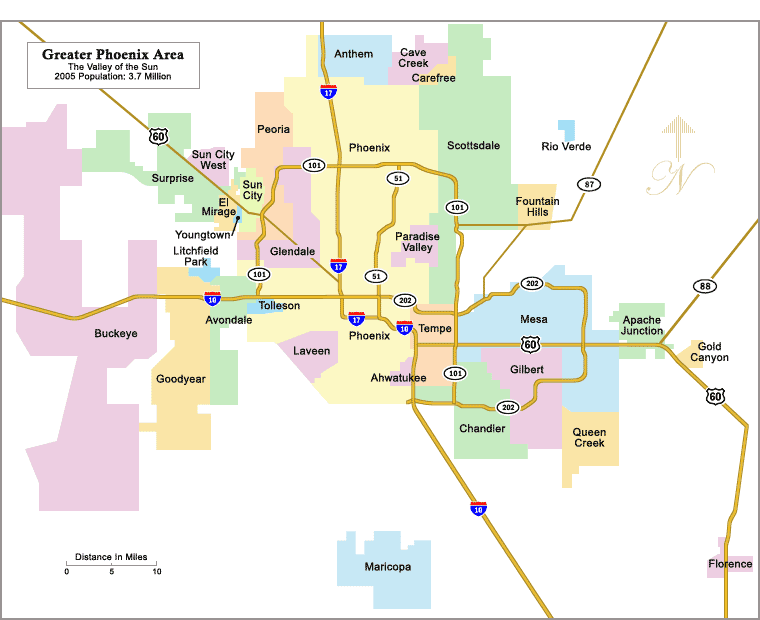 Do you live outside of this area? Be sure to contact us to learn more about our expanded delivery options.
Area 3 – Northwest Valley
Boundaries are Perryville Road to the west, Carefree Highway to the north, I17 to the east and Northern Ave to the south. This area generally encompasses Glendale, Peoria, Surprise, Sun City, and Arrowhead.
Area 4 – Southwest Valley
Boundaries are Verrado to the west, Northern Ave to the north, I17 to the east, and Baseline to the south. This area generally includes Downtown Phoenix, as well as Goodyear, Litchfield Park, Buckeye, Avondale, Glendale, and West Phoenix.
Seatech Aquariums Water Delivery Disclaimers:
Seatech reserves the right to refuse delivery to certain addresses either due to distance, access, safety or other factors.
Seatech is not responsible for livestock deaths. Our water is tested daily and used in many other tanks daily. If you think our water caused any deaths of livestock, we will deal it with it on an individual basis. We will check with other water delivered that day and/or used in our tanks to see if there were any other water issues or deaths. We will also require a sample of your water for testing. If it is come to the conclusion that our water did cause any die off, after we've tested your water and checked other water used from the same batch as yours, we will replace your livestock. Remember when doing water changes, make sure bottles weren't tampered with and also make sure water is at room temperature or close to your tank temperature prior to doing a water change. We are very confident in the quality of our water and go to extreme measures to ensure its quality from our location to yours.
Please notify us if you need a large water delivery (larger than 100 gallons). We should be able to accommodate you, but will need enough notice (5 business days). Large deliveries are usually done on Friday's or Saturday's.
Prices, fees, delivery schedules and/or processes can be updated and/or changed at any time. All customers with an email address on file will be notified, but please check our website regularly for updates/changes.