Fishkeeping is clearly a very popular hobby in the Valley. For that reason, many companies offer fish tank maintenance in Arizona, especially in the Phoenix Metropolitan Area.
So how do you fish through them to find the best one for you?
The first step is to answer a few questions about yourself.
Finding the Ideal Fish Tank Maintenance Company in Arizona
In order to find the best aquarium maintenance service in the Phoenix, Arizona area, consider the type of aquarium you want to design, its size, livestock you wish to include, the setting of your home or business, your experience level, and your budget.
Let's wade through it together.
1. What type of aquarium do you want in your Arizona home or business?
Here at Seatech Aquariums, we frequently talk about saltwater aquariums and freshwater aquariums, but the truth is that there are many different types of aquarium habitats you can design. They include:
Aquariums for frogs or turtles
Breeder tanks
FOWLR (fish only-with live rock) tanks
As you are looking for a service for fish tank maintenance in Arizona, make sure the technicians are qualified and skilled in designing the exact type of aquarium you desire.
2. What size do you need your aquarium to be?
Are you looking to add an aquarium into a large business? Do you have massive space in your home that you would love to fill with an astonishing aquarium? Or would you rather have a little nano tank that fits easily in a corner of your home or even on your desk?
Look for an Arizona fish tank maintenance and design company that can accommodate your plans.
3. What types of livestock are you hoping to include in your tank?
An important factor when determining the size of your fish tank is what livestock you want in it. Many fish grow to a couple feet long, while others can remain half-an-inch for their entire lives.
If you're looking for large fish, you can start with a small tank if you wish. As they grow, you will need a larger tank in order to ensure that they have room to swim around freely while remaining healthy.
A reef tank may require additional space for coral, plants, rock, and other decor. Decor and plants are ideal for freshwater tanks as well, but you might be able to get away with a little less. The beauty of a coral reef tank, after all, is the natural-looking habitat, and that requires plenty of the good stuff.
Of course, when choosing the size of a fish tank, you will need to evaluate how many fish you want, their temperaments, their need for space, and how compatible they will be with one another. Active fish need room to roam, and shy fish look for room to hide.
There are many other considerations when deciding on the size of a fish tank. As you are looking for the best fish tank maintenance service in Arizona, make sure the technicians can install the correct fish tank size and that they are skilled at identifying the needs of the livestock.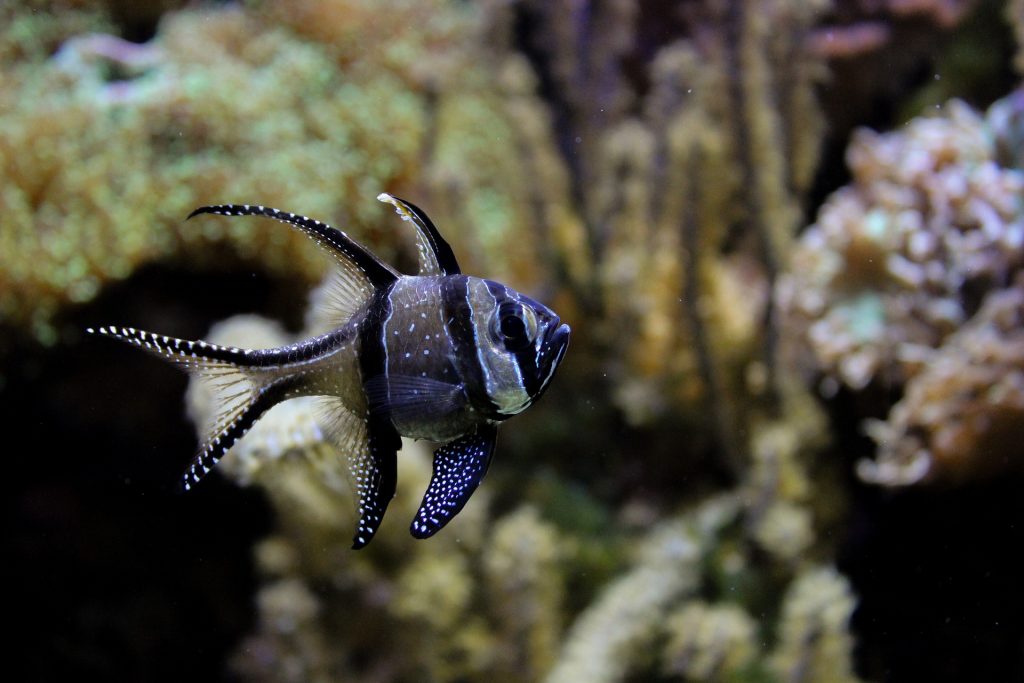 4. How much help do you need from the local fish tank maintenance company?
Some experienced hobbyists prefer to handle much of the aquarium maintenance on their own.
Beginners, on the other hand, may have many questions and need assistance on a regular basis. For that reason, it's important to find an Arizona fish tank maintenance and design company that is experienced, knowledgeable, and easily accessible.
As a side note, if you prefer to use RODI water in your fish tank, look for a Phoenix area aquarium maintenance technician who can complete water changes using this type of water.
5. How much are you planning to spend?
The price range for beautiful aquariums varies from a couple hundred dollars for a household tank to tens of thousands of dollars for commercial tanks. The cost of design, installation, and maintenance depends on many factors, including:
The size of the tank
The filtration systems and aerators
How much decor and plants you want to include in it
Where it will be installed
Whether you choose live rock or dry rock
Those are only some of factors you should take into account when determining the budget for your aquarium, its installation, and maintenance services. Look for an Arizona fish tank design company that can create outstanding results within your budget.
6. Does the company have an excellent reputation?
If you choose maintenance services in addition to installation, you will see the technician often. For that reason, it's important to simply like the person who will be maintaining the aquarium in your Arizona home or business.
Their experience, knowledge, friendliness, and customer service standards should be top priorities as you are trying to find the best company. Get online to research your options, and speak with neighbors, family, and friends for recommendations.
Finding the Best Arizona Aquarium Maintenance Service
Once you make your basic decisions and complete your research, we have no doubt that you will find Seatech Aquariums at the top of your list.
With more than 20 years of experience in fish tank maintenance in Arizona, Owner Jimmie Hernandez has a genuine desire to build aesthetic, functional aquariums that are home to healthy, happy inhabitants.
Contact us for more information about our services. We are here to answer any questions you may have about how to maintain an aquarium while keeping your livestock thriving.